High Security Seals
"C-TPAT" High Security Seals
Textape, Inc. provides all types of seals that are compliant with all the C-TPAT requirements and standards.
Companies that are C-TPAT certified, are allowed to use the "FAST LANE", to expedite their tractor trailers shipments across the border between the united States, Mexico, and Canada.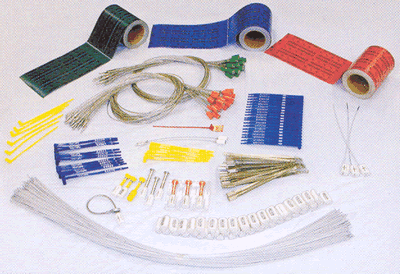 These seals have proven to be effective in halting shipments that contain contraband.
Textape stocks large quantities of high-security cable, pull-tight, bolt, aluminum band, and plastic band seals: in order to provide our customers with prompt and professional service, for all of their security requirements.
"TRAC" Seals are printed with the "C-TPAT" and the "FAST" logos. The TRAC Seals are supplied three abreast, with all three having matching sequential serial numbers. They are available in red, blue, and green. If the TRAC Seals are tampered with, the seal will self destruct leaving the message "OPENED" and "ABIERTO". This helps indicate when and where a violation has occurred.